Beef Stroganoff is a savory comfort food I recall from childhood. Traditionally a Russian dish, It's a hardy meal that is particularly enjoyable on cool or rainy days when you want something to warm you up. I usually prepare it with egg noodles and broccoli, but this time I made mashed potatoes and added peas. You might think up another combination.
Ingredients
1/2 large onion, chopped
1 lb. ground beef
1 package mushroom sauce
1/2 cup sour cream
2 teaspoons Dijon mustard
Olive oil
Salt
Ground pepper
2 cups water (1 cup for sautéing onion and 1 cup for mixing mushroom seasoning with ground beef)
Poppy seeds (optional)
Wide egg noodles
Side of peas or broccoli (optional)
Directions
Sauté chopped onion in olive oil until brown and translucent. Add salt and pepper to taste. Set sautéed onion aside in a dish.
Tip: Shorten cooking time by cooking the chopped onion in 1 cup of water until the water evaporates, then add olive oil and continue cooking. Cooking in water releases the starches that help brown the onion and develop flavor. This method can cut cook time in half.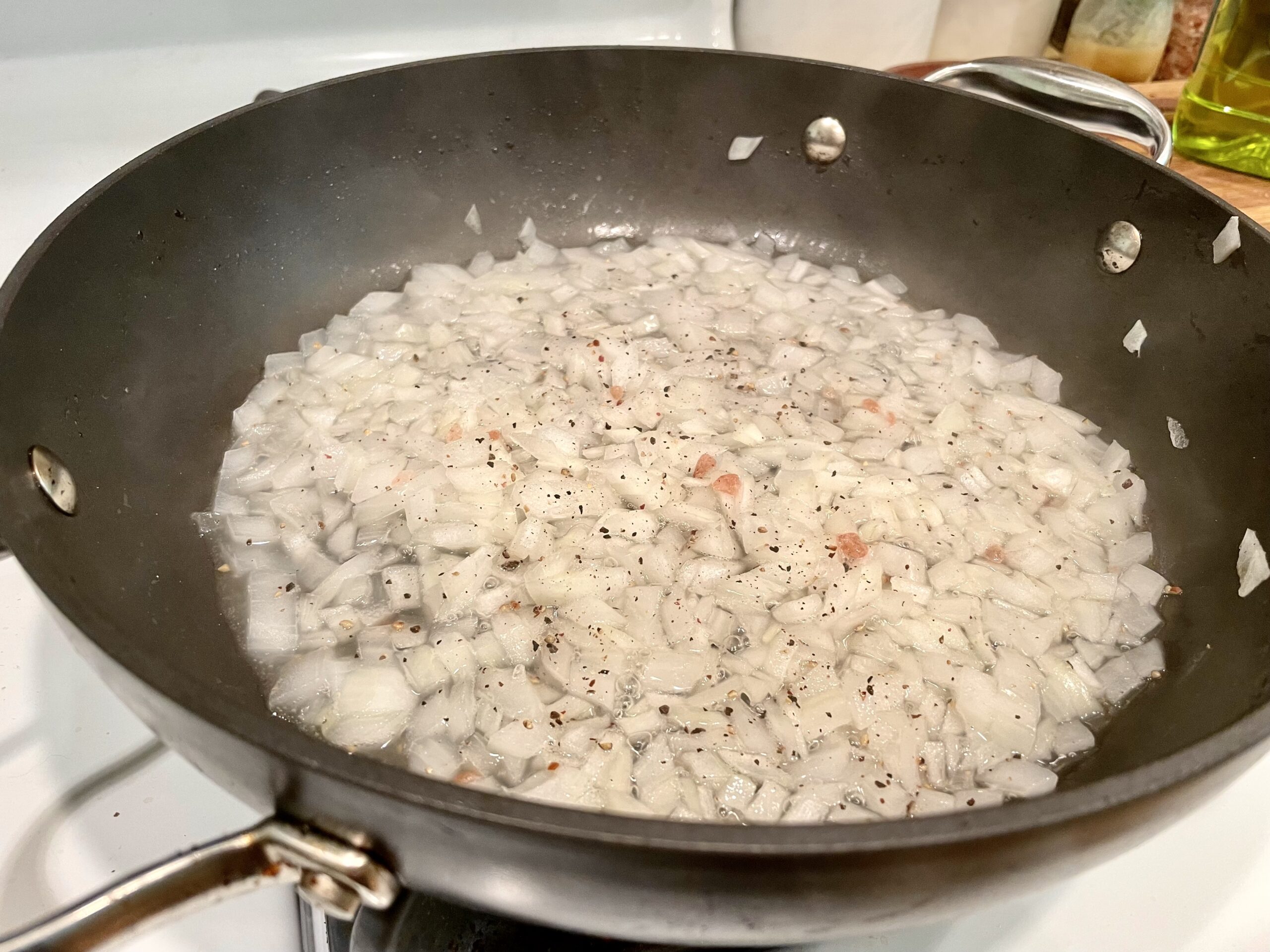 Season ground beef with salt and pepper and brown in a sauté pan. Drain off extra fat.
Add sautéed onion, mushroom sauce seasoning packet, dijon mustard, and 1 cup of water to cooked ground beef and mix thoroughly. Optionally, add poppy seeds. Bring to a boil, then turn heat to low and simmer until most of the water has evaporated.
Remove from heat and add sour cream. Mix well and serve with al dente wide egg noodles.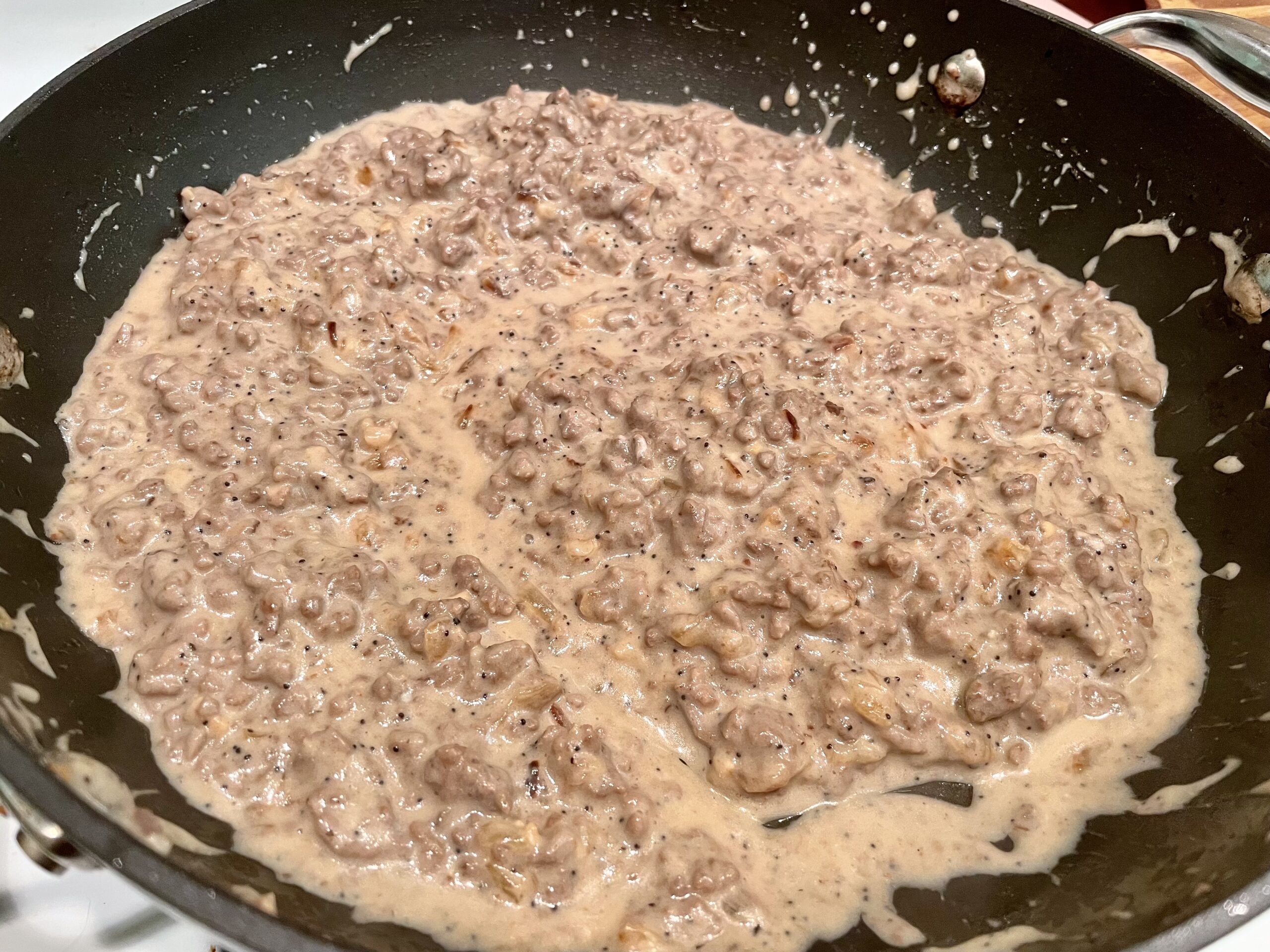 Blend stroganoff with noodles or lay it on top.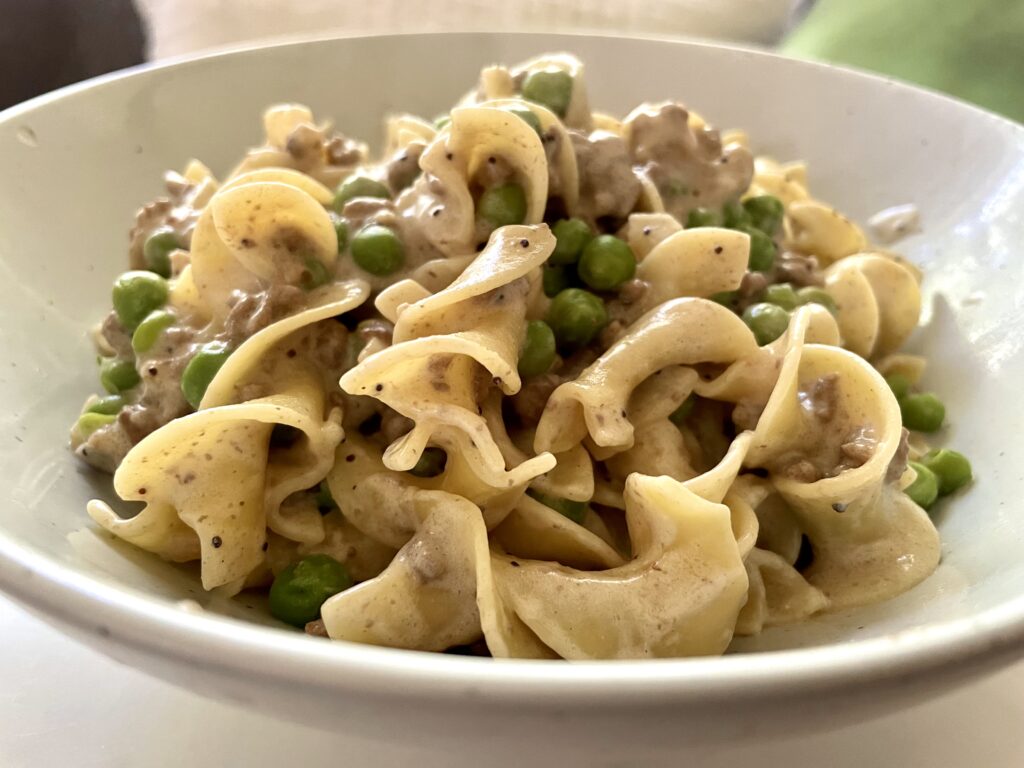 Alternatively, serve over mashed potatoes—not traditional, but tasty. Here shown with peas and another serving with broccoli.