I have been wanting to tackle this barren area for years and decided I could at least move a few plants I could spare from my backyard. I have no irrigation to the area, so I waited for the beginning of the rainy season to help them get established. Also, I've chosen plants that shouldn't require much attention from me once they have taken to the spot.
Below is the Before photo of the area, although I did just add the two small shrubs. It already had a wonderfully natural arrangement of rocks and a natural channel for water runoff, so all I needed to do was fill in with some plants and add river rocks for a beautiful woodland effect.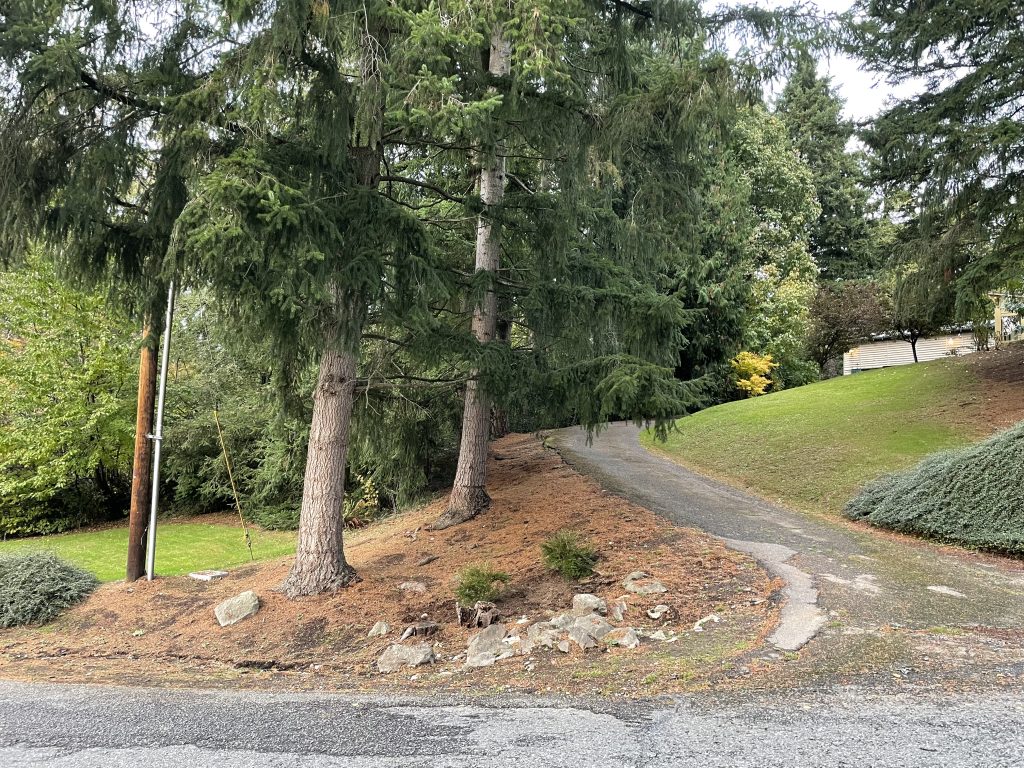 I added two evergreen shrubs (above photo), which are a type of holly I then added a couple full size Autumn ferns, also evergreen, and a handful of baby plants—a hellebore and a few deciduous ferns that get quite large (2.5 – 3ft).
What's really fun is that while I was planting a neighbor, Leone, was out for her daily walk and stopped to say hello. I hadn't really talked with her before so it was nice to get to know another neighbor. We talked about my project and she volunteered some of her own plants. She has a fairly mature garden and has plants she divides and pulls out so they don't take over her space. She offered dividsions of a variegated grass and succulents. I ended up driving over to her house to pick them up an hour later and was able to see her lovely garden.
Then, while I was planting the new additions, another neighbor, Sue, was out for a walk with her husband George and I chatted with them about the project. She volunteered more plants as well as river rocks for the dry creek bed from a pile of rocks she'd collected while doing her own gardening.
The photos below show all the new plants and rocks. I still have more rocks to haul in, but it's taking shape, and its much more filled out than I'd imaged I'd be able to accomplish in a season—let alone two days! Thank you Leone and Sue! I'm so blessed to have wonderful neighbors and excited to see how the garden fills in next year.