The previous owners of my property established some very special trees, flowers and shrubs. I've enjoyed the profusely blooming blue hydrangea, delicate climbing rose bushes, bright salmon colored azaleas, and various ornamental maples. There are others I have yet to see bloom since I moved in at the end of summer and still have a couple seasons yet to enjoy. I look forward to seeing rhododendron, camelias, peony, and others yet to be identified.
That being said, there's quite a bit of work I plan to do to enhance what's there. I already started revamping the courtyard–removing most of what was crowding the space, transplanting some items, and adding new ones. As I mapped out plans for various other aspects of the property, I realized my list was growing and I was having trouble keeping track. Also, I have been expanding my knowledge of native plants and various gardening techniques, making it harder to track all that I've learned and want to put into action, some of which requires multiple steps and appropriate timing.
To that end, I created a map of the property and identified sections I can tackle in stages. There are a number of areas I'd like to cover with dwarf mondo grass. This will provide me with evergreen grassy areas that don't require mowing and should be low maintenance. There are also spots I'd like to fill in and make a bit more lush and attractive, especially through winter months.
In the map below, I defined the primary garden zones (from top to bottom):
Backyard Raised Garden
Backyard Lawn
Backyard Plantings
Front Walkway
Courtyard
Side Yard
Front Raised Garden
Front Drive
Front Lawn
Driveway Entry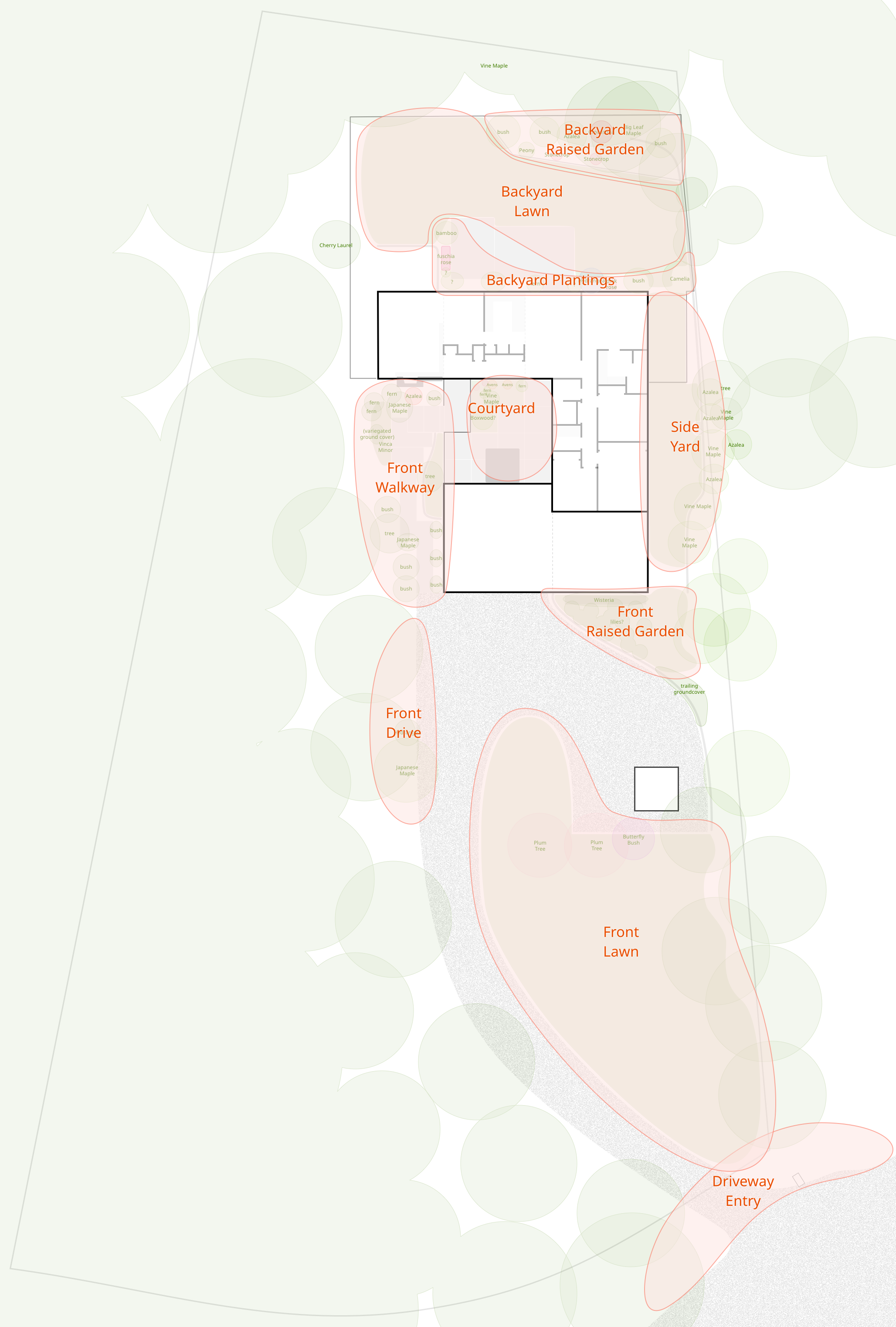 I started work on the courtyard back in August and September and plan to do more in the spring, so that's underway. My next big project might be laying dwarf mondo grass in a small section to see how it goes. I'll likely do that either in the side yard or the small patch to the right of the front walkway, depending on how well I can prepare the soil in those spots. I need to clear what's there, even out the ground, and amend the soil as needed. If this goes well, I'll make plans to do the same in the open area of the backyard as well as the large front yard area. I'll also add some shrubs to break up these grassy areas and hopefully achieve a somewhat natural woodland look.
You might have noticed a number question marks and generic labels. I still have a lot to learn and plan out. So keep a lookout, more plans to come..