I created a palette with Roman Szmal Aquarius watercolors last month (Jan 2021) and I've been enjoying it, but I've run into a couple limitations. I decided I wanted to learn more about what it could do, so I decided to make a mix chart of the colors.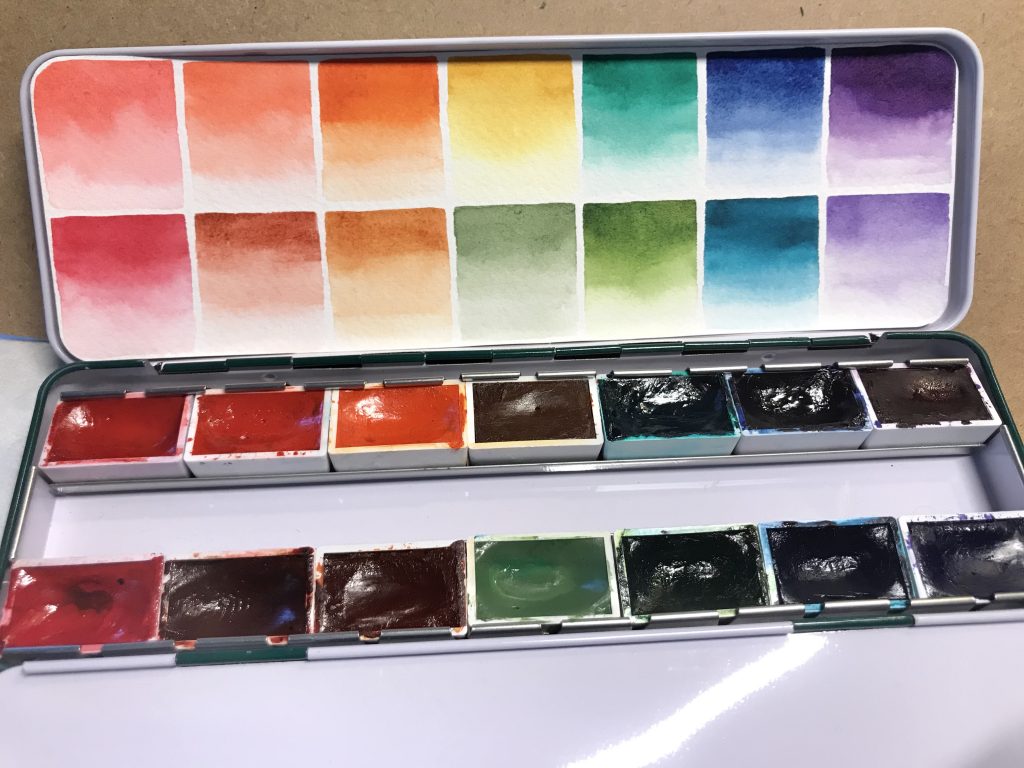 Paints Included:
Quinacridone Red
Cherry Quinacridone Red
Antraquinone Scarlet
Quinacridone Maroon
Benzimidizole Orange
Quinacridone Burnt Sienna
Quinacridone Gold
Green Earth
Hooker's Green
Phthalo. Green (blue shade)
Transparent Turquoise
Indanthrone Blue
Ultramarine Violet
Mineral Violet

One color I've been missing from the Roman Szmal Aquarius paints is the equivalent of Quin. Rose from Daniel Smith, which has a deep mass tone and is slightly warmer than the Quin. Red of Roman Szmal—the closest I can find in their line. I also think I might want a more traditional yellow and/or orange, though I like the richness and earthiness of the Benzimidizole Orange and Quin. Gold. I could go ahead and replace a few colors, but I wanted to get a better idea of what this palette could do first. So, I created a few mix charts.
Here's a quick map of how I lay out my mix charts.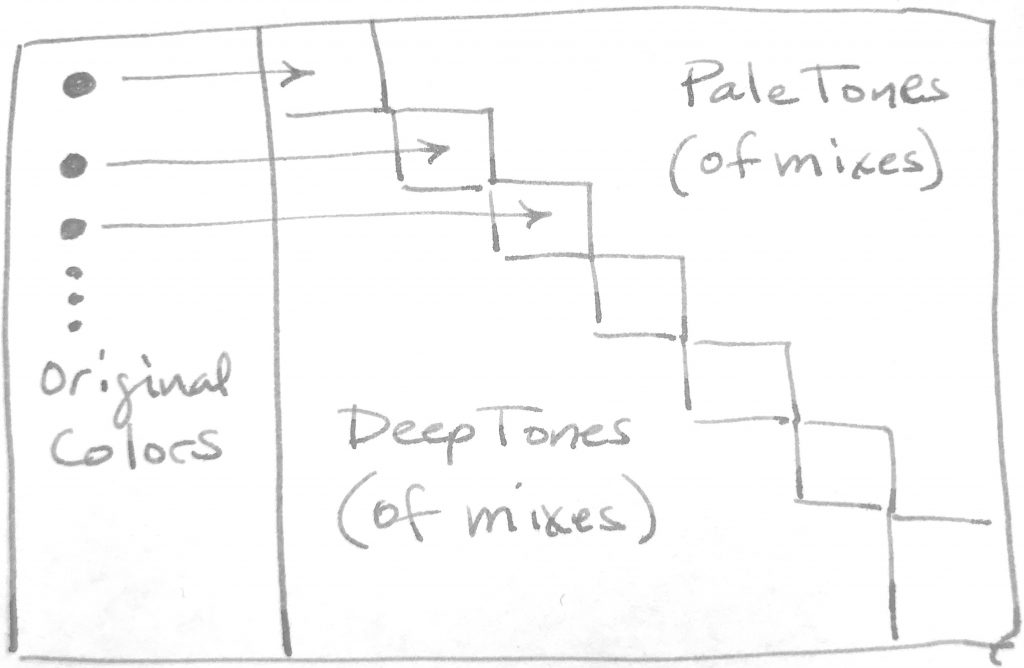 The first chart I made is useful, but I really wanted larger swatches. Still, I learned a few things with this chart. I enjoyed seeing how Quin. Burnt Sienna can tone down the other colors, both warm and cool. Quin. Gold functions similarly, yet maintaining more warmth and a bit more saturation. Also, Green Earth is great for creating softer tones of many colors, one reason I love having it in a palette.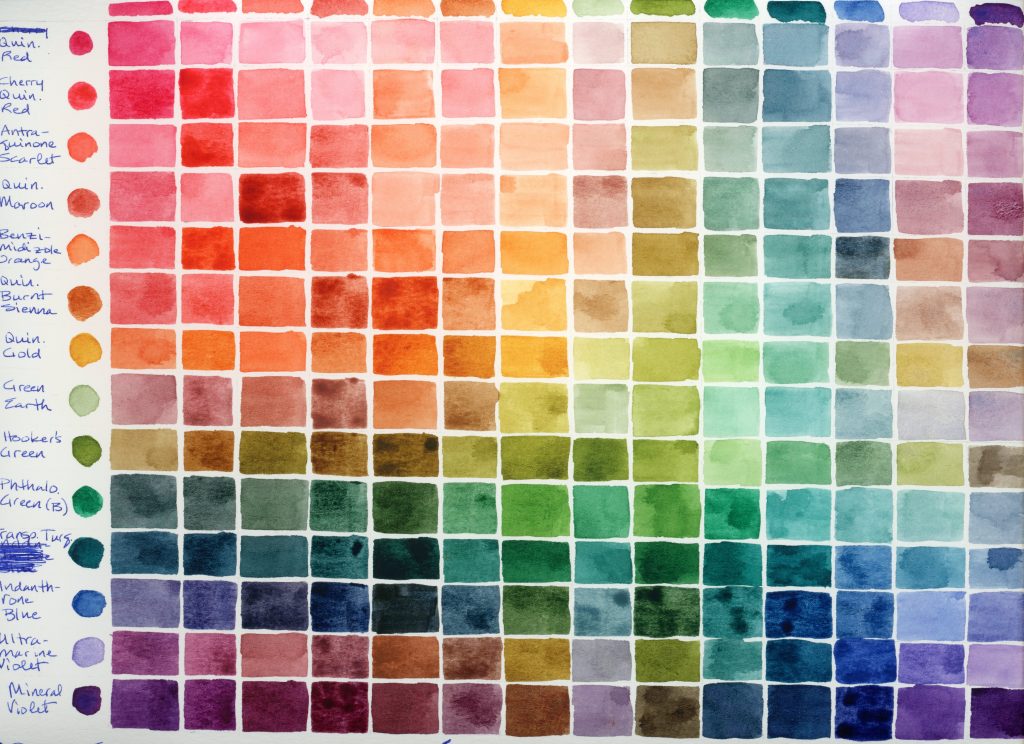 I decided to create 3 larger charts and break them up into sections, so I could still cover all of the mixes. I mixed the warm colors on one and the cool colors on another with the same format as above. Then I mixed the cool with the warm, showing the original colors in the margins.
Warm Color Mixes
I've been pondering replacing either Cherry Quin. Red or Antraquinone Scarlet since it's quite easy to make either hue by tweaking one of them. For example, the chart below shows a great version of Antraquinone Scarlet from mixing Cherry Quin. Red and Quin. Burnt Sienna.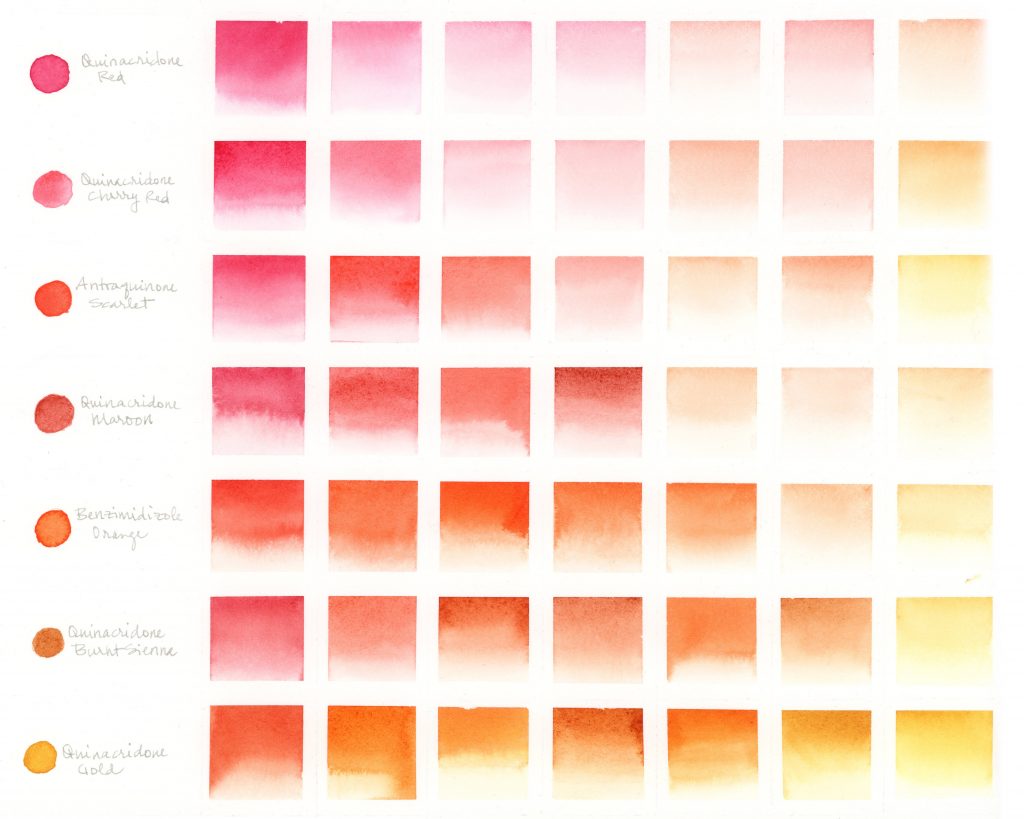 Cool Color Mixes
It was nice to see the range of greens I could get as well as a couple neutrals with the cool mixes.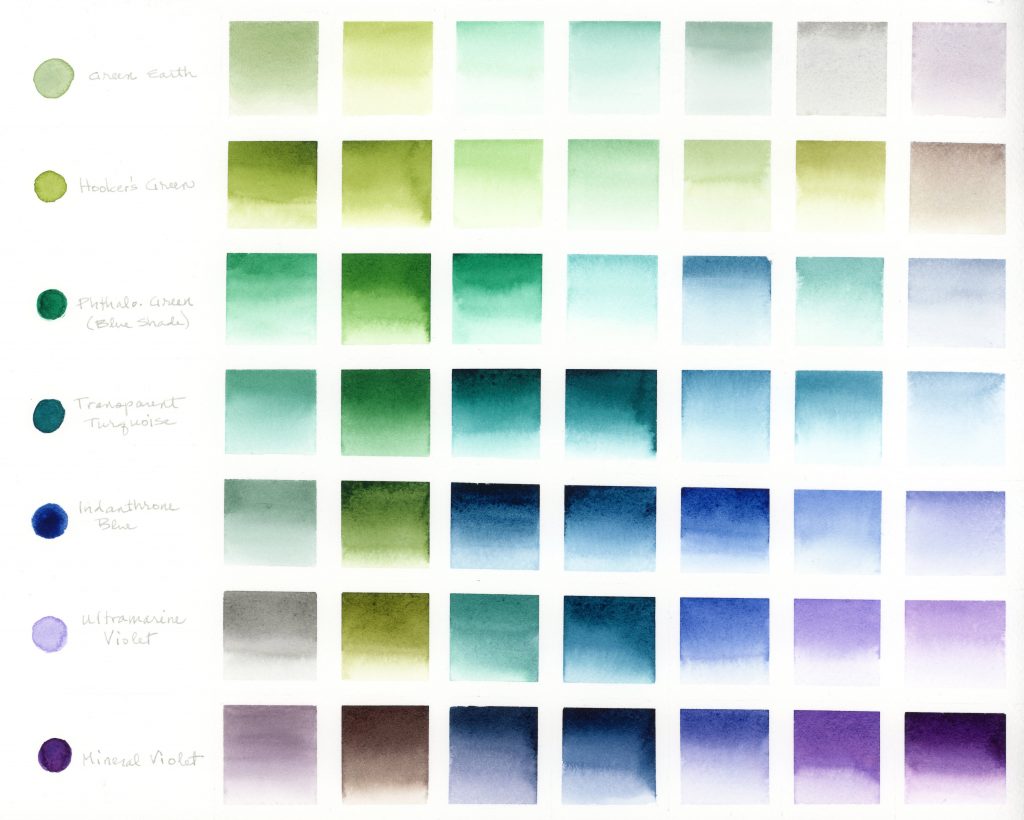 Warm & Cool Color Mixes
Mixing the warm and cool colors generates the most diverse set of colors, with some gorgeous deep greens, beautiful earth tones and some stunning jewel tones. On this chart, all of the squares represent mixes with the original colors in the margins.