I've been collecting random watercolors from the Sennelier brand for a while and because I'm adding a few new ones, I decided to pull them together and make a palette. It will be useful for me to get a feel for how Sennelier paints behave compared to other brands. They are known for glazing well and I've heard a few people say they are 'more luminous' or have a quality that is difficult to explain, so it will be interesting to compare with other brands I use regularly (Daniel Smith, Winsor & Newton, Roman Szmal Aquarius, etc.).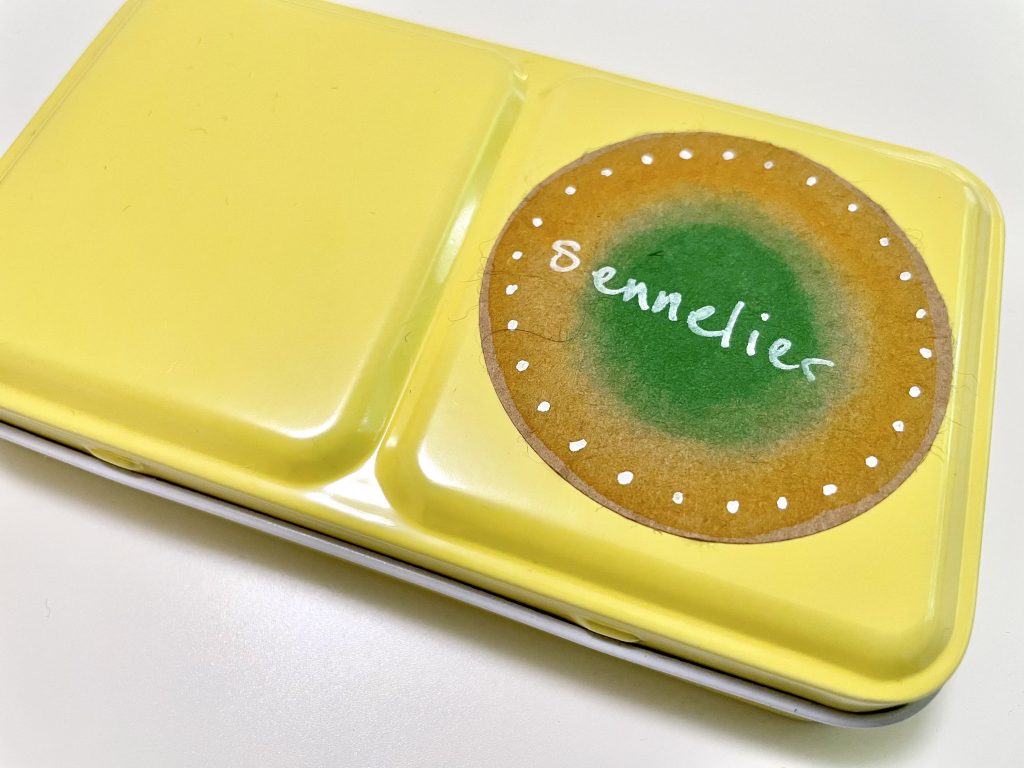 I decided to assemble the colors in a small metal palette without the insert, so I used magnets to affix them and added as many as I could fit. I did decide to have full pans for some of the main colors I would use and half pans for the rest and ended up with 20 colors. In the end, I left a handful out and included a couple custom mixes out of colors I thought I might not use.
Here are the colors I included in the palette, including the custom mixes I created: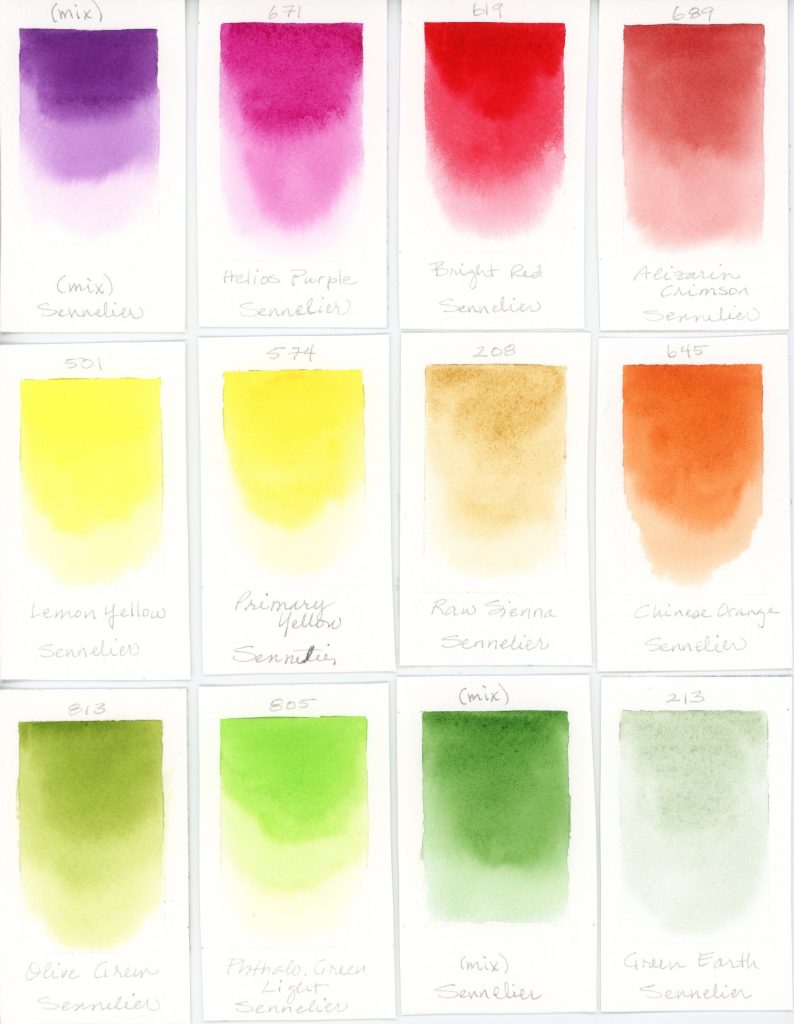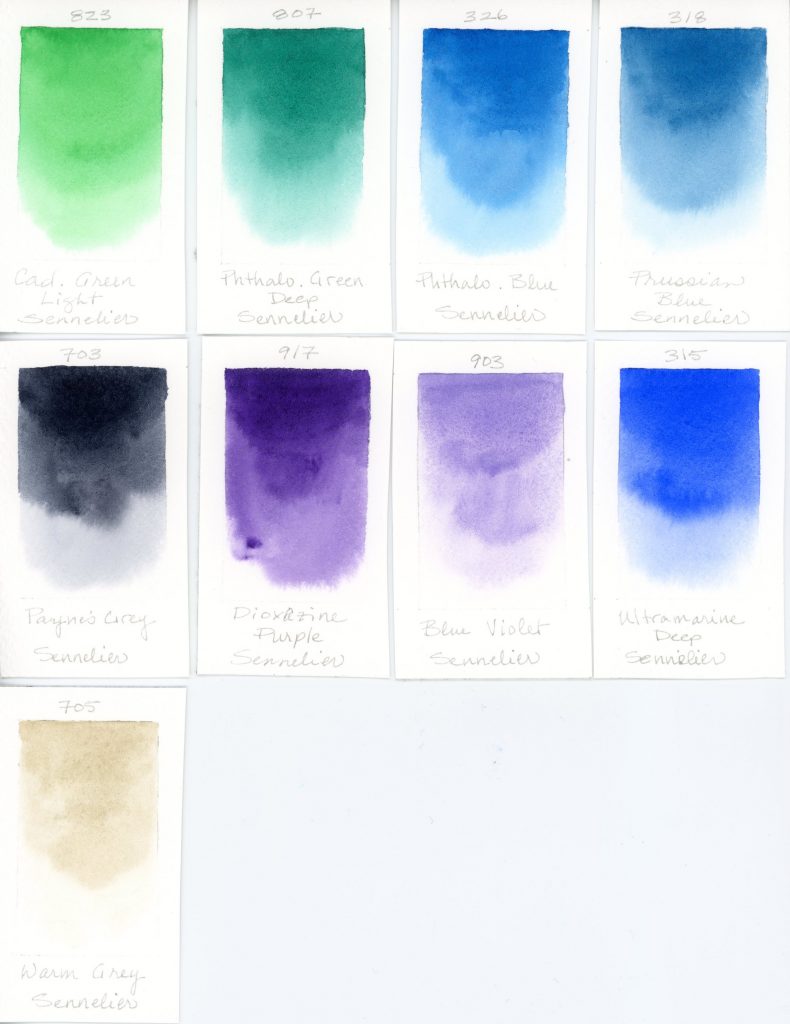 Purple Mix–Cobalt Violet Light Hue and Dioxazine Purple
Helios Purple (full pan)
Bright Red
Alizarin Crimson
Chinese Orange
Raw Sienna
Primary Yellow
Lemon Yellow
Olive Green
Phthalo. Green Light
Green Mix–Bright Yellow Green, Prussian Blue, and Raw Sienna
Green Earth
Cadmium Green Light
Phthalo. Green Deep (full pan)
Phthalo. Blue (full pan)
Prussian Blue
Ultramarine Deep
Blue Violet
Dioxazine Purple
Payne's Grey
Warm Grey
These are the colors I left out–mainly fugitive and redundant colors.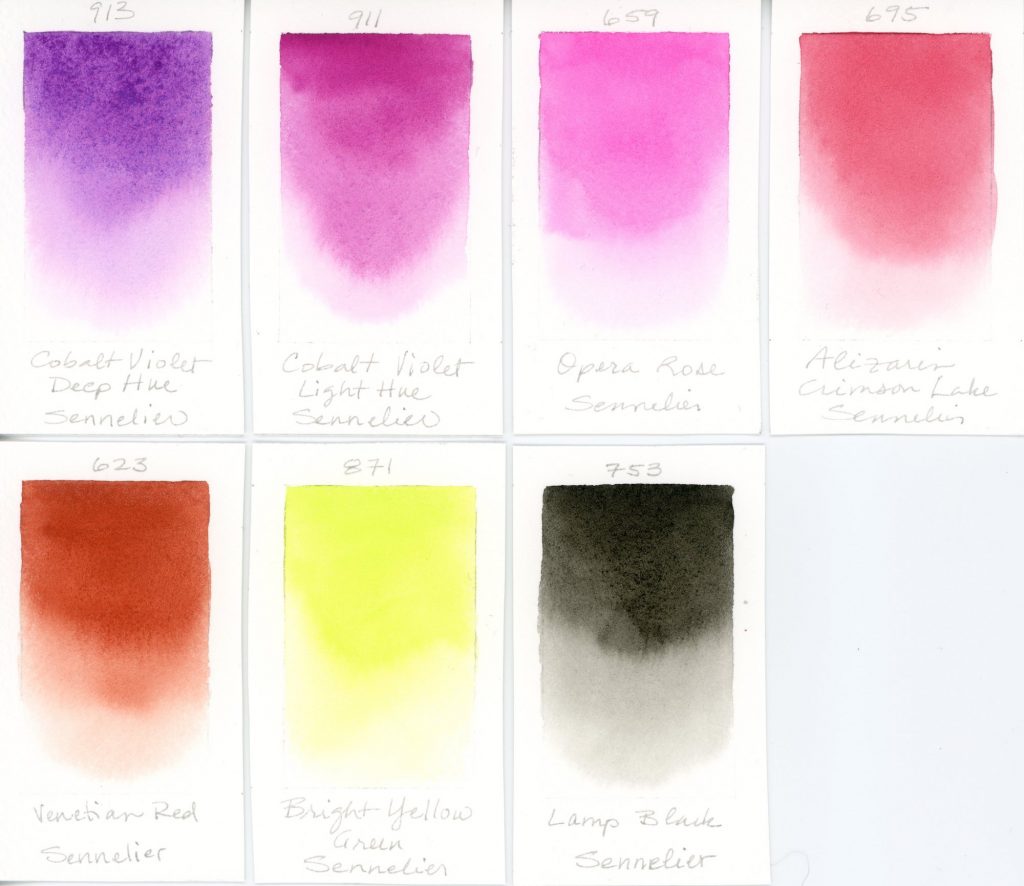 Cobalt Violet Deep Hue
Cobalt Violet Light Hue
Opera Rose
Alizarin Crimson Lake
Venetian Red
Bright Yellow Green
Lamp black
I also made a color mix chart (the X indicates a mistake). I am particularly drawn to the rich mossy greens and Sennelier's Olive Green is becoming one of my favorite watercolor paints. I also really like the vibrant Helios Purple and I've heard it is lightfast (being a PR122, Quinacridone Magenta), though it's labeled as only 'Fair'.