The Gardens of Marqueyssac are often referred to as the hanging gardens because they sit on a long plateau that hovers above the Dordogne Valley. This offers visitors panoramic views of the entire valley surrounding it. It is a private estate started in the 17th century and extensively restored in 1997. It's multiple paths meander through topiary gardens and long walkways to quiet benches surrounded by trees or to lookout points.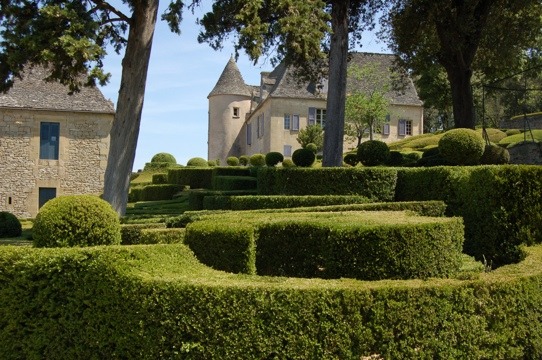 In the distance you can spot Chateau de Castelnaud.
In this snapshot Chateau de Baynac is visible off in the distance. This gives you an idea of just how much there is to see and experience in this little valley.
Again, you can spot Chateau de Beynac in the distance.
This is a view of La Roque Gageac, another postcard village that's nestled between limestone cliffs and the Dordogne River.
This view looks back on Marqueyssac gardens (stretch of hill on the right covered in trees).