I swatched out 3 palettes of mine for testing lightfastness–my Muted Palette, Primary Palette, and a palette consisting of Da Vinci and American Journey watercolors. I think there may be 2 or 3 slightly fugitive colors, but I wanted to test all of these, so let's see what happens. I included masstone and diluted swatches of each color as I've heard that some fade when diluted even when their masstone doesn't show fading. These are swatched on Arches 140lb cold press paper.
Muted Palette
Lamp Black, Sennelier
Aquarius Gray, Roman Szmal
Warm Grey, Sennelier
Buff titanium, Daniel Smith
Cyprus Raw Umber, Roman Szmal
Sepia, Roman Szmal
Permanent Carmine, Winsor & Newton
Quin. Maroon, Roman Szmal
Quin. Red Gold, A. Gallo
Quin. Burnt Sienna, Roman Szmal
Gold Ochre, Winsor & Newton
Gold Ochre, A. Gallo
Quin. Gold, Roman Szmal
Olive Green, Daniel Smith
Olive Green Light, Roman Szmal
Chromium Oxide Green, A. Gallo
Green Earth, Roman Szmal
Perylene Green, Daniel Smith
Blue Spruce (custom mix)
Aqua Green, Winsor & Newton
Harbor Blue, A. Gallo
Indanthrone blue, Roman Szmal
Payne's Gray, Winsor & Newton
Misty Morning, Roman Szmal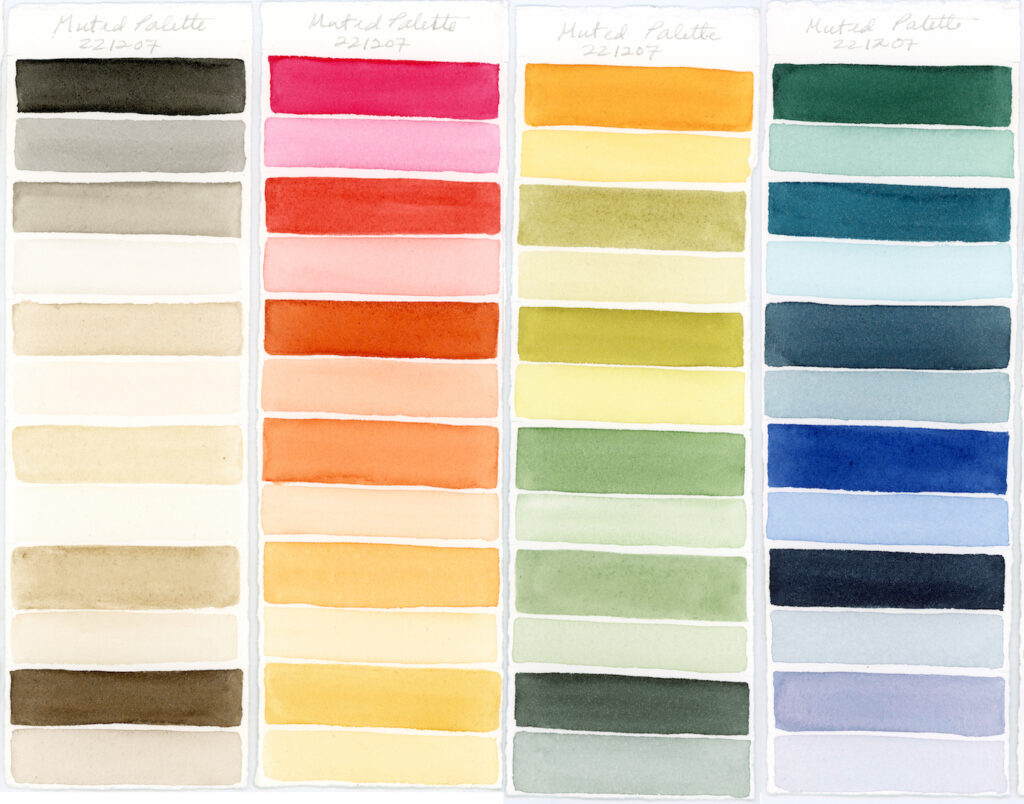 Primary Palette
I did not repeat the colors in my Primary Palette that are in my Muted Palette.
Quin. Rose, Daniel Smith
Coral (custom mix)
Transparent Orange, Winsor & Newton
Aussie Red Gold, Daniel Smith
Indian Yellow Hue, Jackson's
Jackson's Yellow Light, Jackson's
Green Gold, Daniel Smith
Sap Green, QOR
Sap Green, Daniel Smith
Perylene Green, Daniel Smith
Phthalo. Green (B), Roman szmal
Transparent Turquoise, Roman Szmal
Cobalt Turquoise Light, Winsor & Newton
Cobalt Blue Violet, Daniel Smith
Mineral Violet, Roman Szmal
Payne's Gray, Jackson's
Sepia, Daniel Smith
Ochre Havana, Roman Szmal
Raw Sienna, Winsor & Newton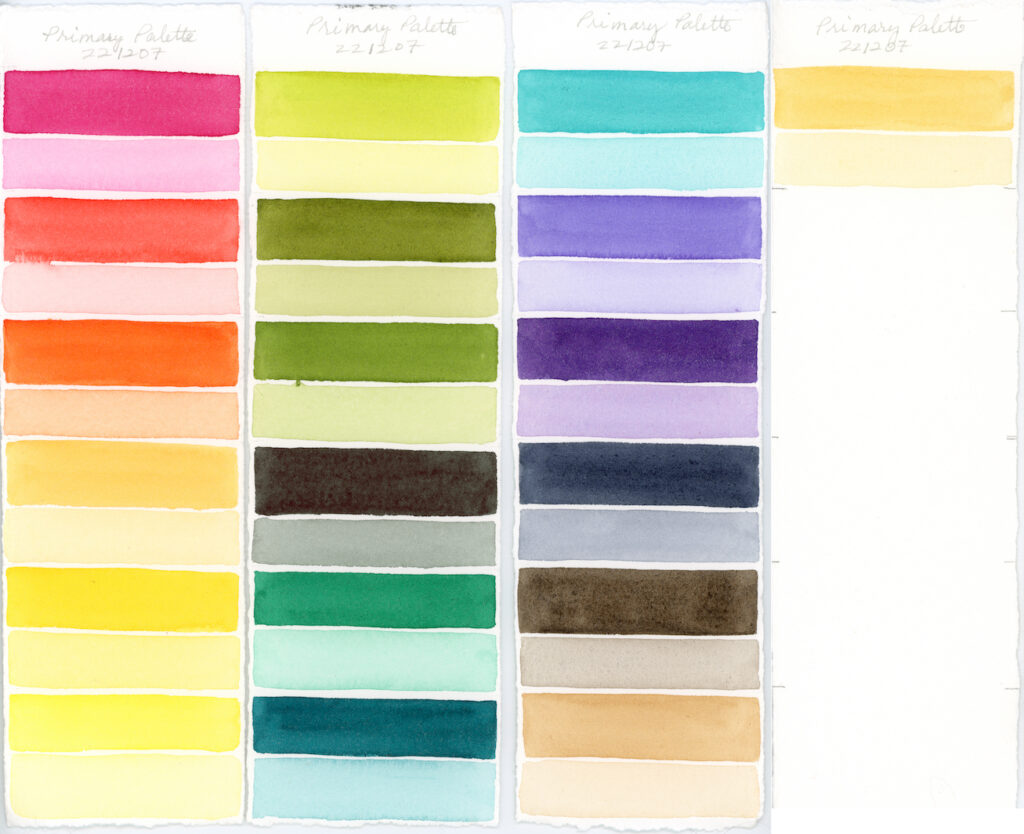 Da Vinci & American Journey Palette
Red Rose Deep, DV
Carmine Quinacridone, DV
Rose Dore, DV
Vermillion Hue, DV
Benzimidazalone Orange Deep, DV
Alizarin Gold, DV
Gold Ochre, DV
Arylide Yellow, DV
Hansa Yellow Light, DV
Green Gold, AJ
Olive Green, DV
Joyce's Mother Green, DV
Chromium Oxide Green, DV
Perylene Green, DV
Blue Stone, AJ
Seaglass, DV
Prussian Blue (G), DV
Phthalo. Blue, DV
Indanthrone Blue, DV
Midnight Blue, AJ
Ultramarine Blue, DV
Ultramarine Violet, DV
Joyce's Mother violet, DV
Shadow, AJ
Mauve, DV
Raw Umber Violet, AJ
Raw Umber, DV
Transparent Oxide Yellow, AJ
Raw Sienna, DV
Titan Buff, DV
French Grey, AJ
Pat's Coastal Blue, AJ
Davy's Gray, DV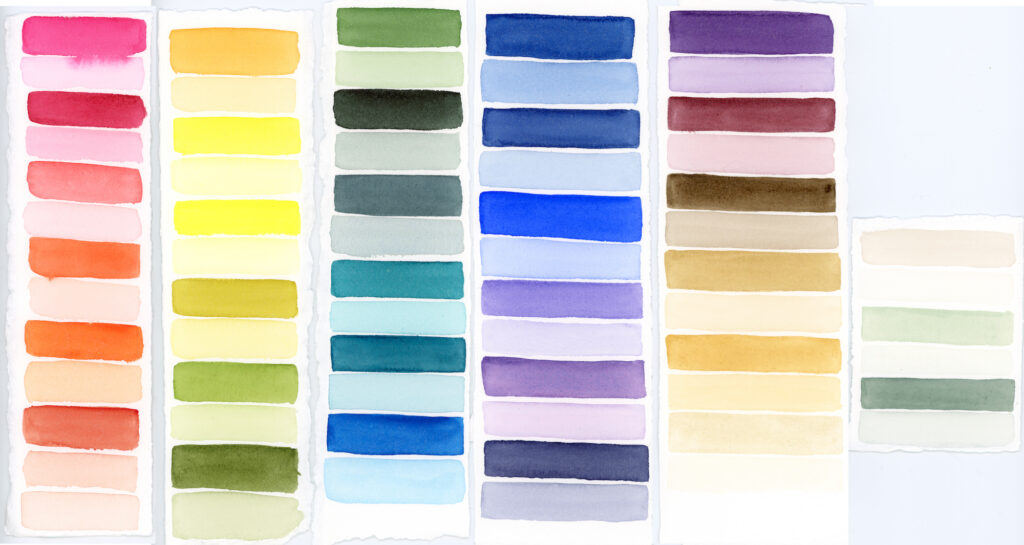 I will cover half of each swatch, put these in a south facing window, and check on them monthly or semi-annually, so watch for updates if you're interested. Also, I did not cut the swatches in half as many people do since I suspect it will be easier to see subtle shifts without it. Instead, I covered them with thick cardstock from the covers of watercolor paper blocks.
Update—Dec 8, 2022: It's the next day and the swatches are now mounted in the window.