As the weather got cooler, I began craving soup. I ran across a leek and asparagus recipe on YouTube, but then couldn't find it again when I wanted it, so I amended a leek soup recipe online. It turned out really nice, here's what I did (I think!)
Ingredients
2 leeks
1 bunch asparagus (reserve tips for garnish)
3 to 5 potatoes
1 onion
3 cloves garlic
1 tsp lemon
2 cups vegetable broth
4 cups water
salt and pepper to taste
herbs (thyme)
olive oil
diced ham, bacon, or sausage (for garnish)
Directions
Chop off the asparagus tips and save them for a garnish.
Chop and boil the potato and set it aside. Because I like a really hearty soup, I saved a bit of the cooked potato, chopped it up, and mixed it in to the finished soup before garnishing it.
Chop the onion and leeks, and and saute together in olive oil. Chop up the asparagus stems and add it to the onion and leek when tender. Chop the garlic and sauteed it until lightly browned.
Then add the vegetable broth, water, lemon, and seasoning (herbs, salt, and pepper) and use a hand blender until it's the consistency you like. I used Italian herbs since I had a mix on hand, but leek soup recipes generally suggest thyme. Add pepper and salt to taste. I tend to add while I'm sauteing and then again at the end.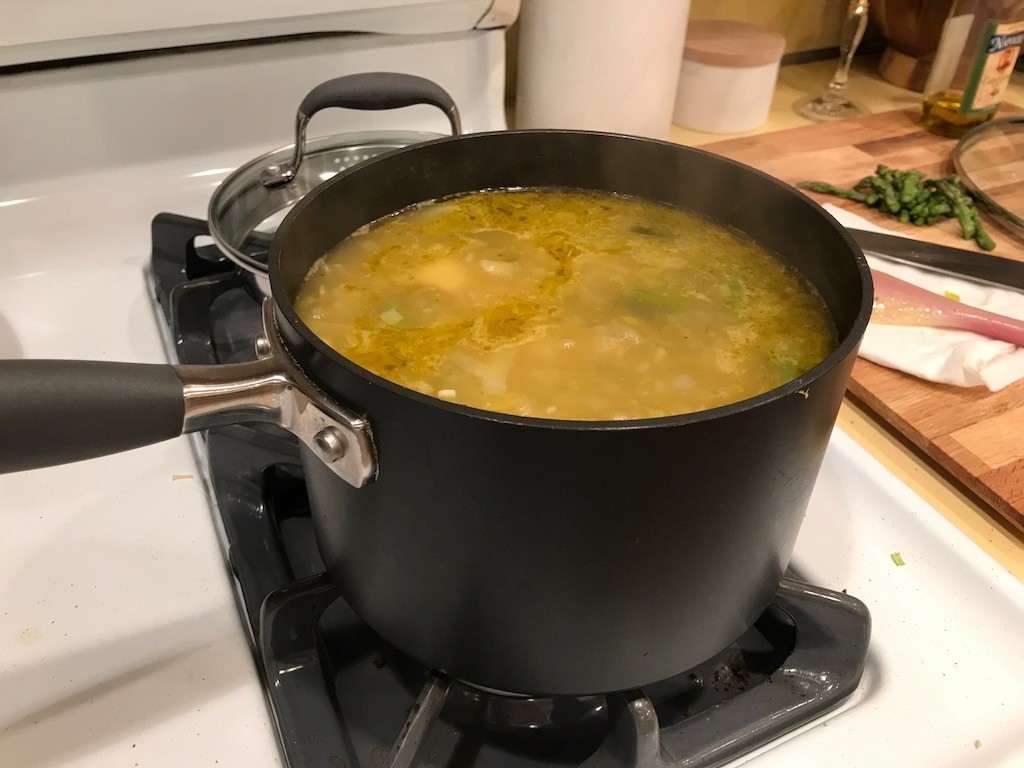 Lastly, saute asparagus tips and diced ham. Garnish with that, along with a drizzle of olive oil.