I've been planning some travel and decided I might want to have a travel watercolor palette. I had a couple very compact 12-color metal palettes, sometimes called a bijou palette, I got from Case for Making and decided these would be the perfect size. I could use one for a primary set and have an auxiliary one with additional colors and convenience mixes. The palette fits nicely in my hand and has a bit of mixing area.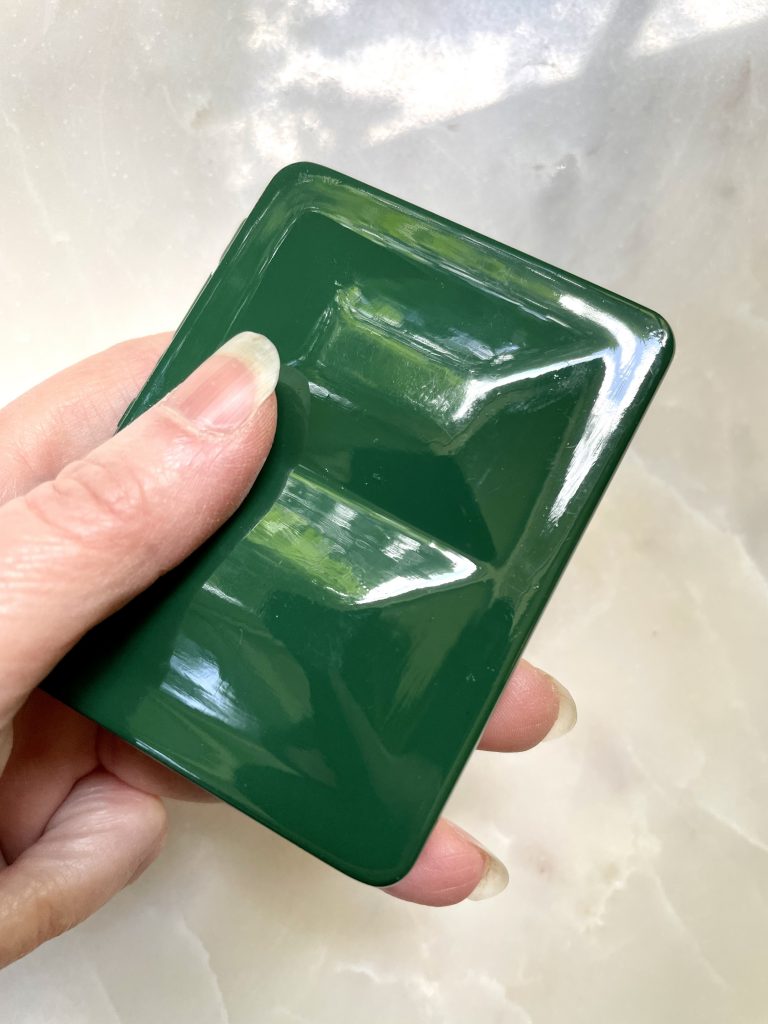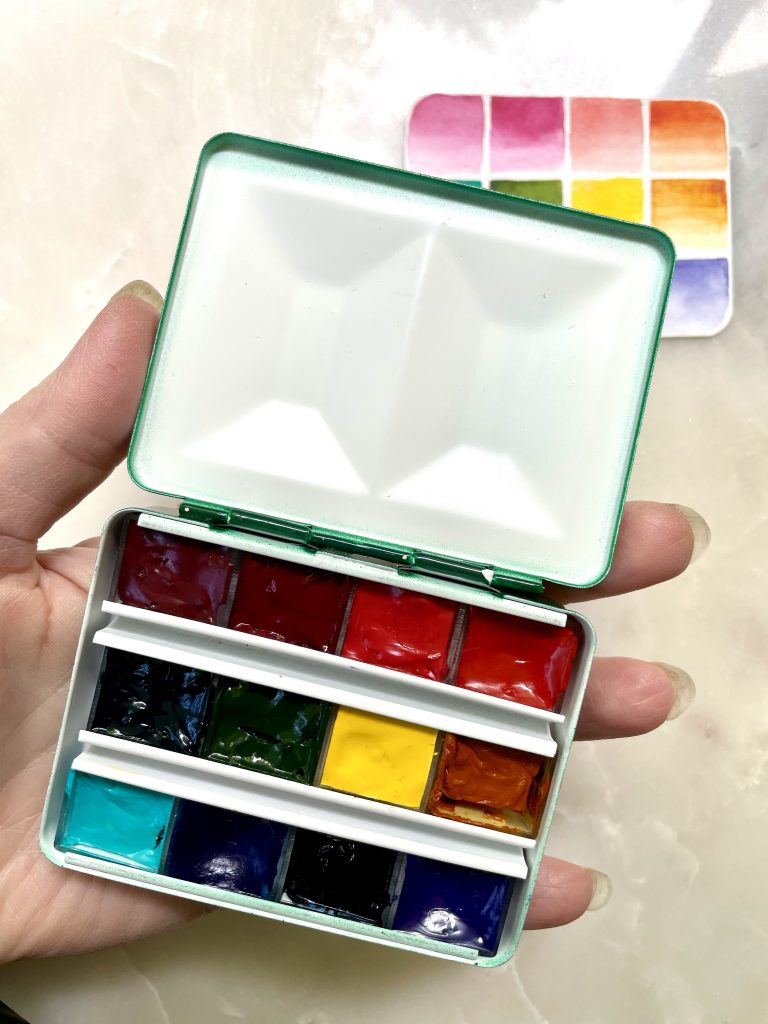 The color selection includes a reasonable representation of a split primary palette and some additional convenience colors.
Rhodonite Genuine, Daniel Smith—lovely soft pink with a touch of warmth, great for delicate florals
Quinacridone Rose, Daniel Smith—the 'cool red' of the split primaries and a color I use a lot
Rose Dore, Winsor and Newton—soft peachy color I tend to use quite a bit in my paintings for sunsets and florals, though this particular paint is new to my collection
Transparent Orange, Winsor and Newton—my favorite orange, vibrant, but not too vibrant, has a wide value scale, and acts as the 'warm red' of the split primaries
Aussie Red Gold, Daniel Smith—beautiful glowing warm yellow with a strong mass tone, acts as the 'warm yellow' of the split primaries
Jackson's Yellow Light, Jackson's—lovely creamy, bright yellow, the 'cool yellow' of the split primaries
Sap Green, Daniel Smith—has great value range and it's a pleasant, natural green
Phthalo Green (blue shade), Daniel Smith—I use this often for soft aqua when very diluted and an excellent mixing color for any kind of green or turquoise, as well as for toning down compliments
Cobalt Turquoise Light, Winsor and Newton—great color for a pop of brightness or interesting granulating and separating mixes
Winsor Blue (green shade), Winsor and Newton—the 'cool blue' of the split primaries, great for mixing deep turquoise or Prussian Blue
Indanthrene Blue, M Graham—rich, dark blue, leaning toward the warm side. It's the 'warm blue' of the split primaries. Generally, this type of blue is non-granulating, but this one seems to have some texture. I'm used to using Indanthrone Blue by Roman Szmal, but used this one because I can put it in a half pan. We'll see how it does.
Cobalt Blue Violet, Daniel Smith—beautiful blue leaning violet with very subtle granulation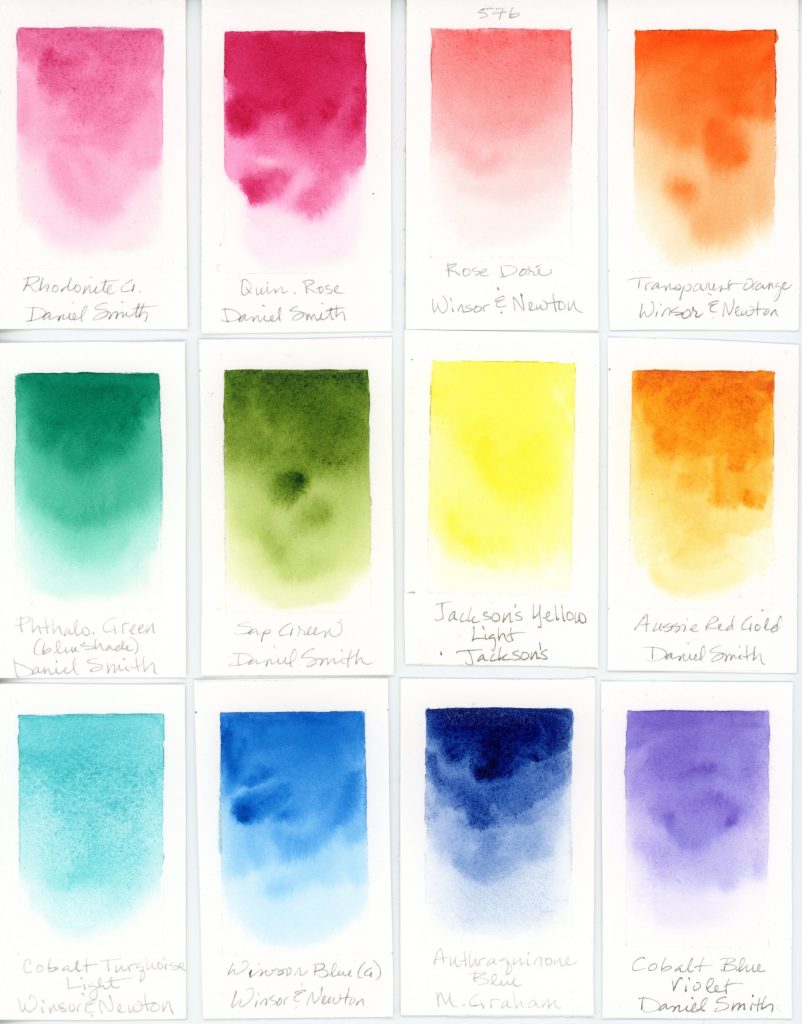 As always, I made a swatch card that fits in the lid.
Flip the swatch card over for a color and brand reference.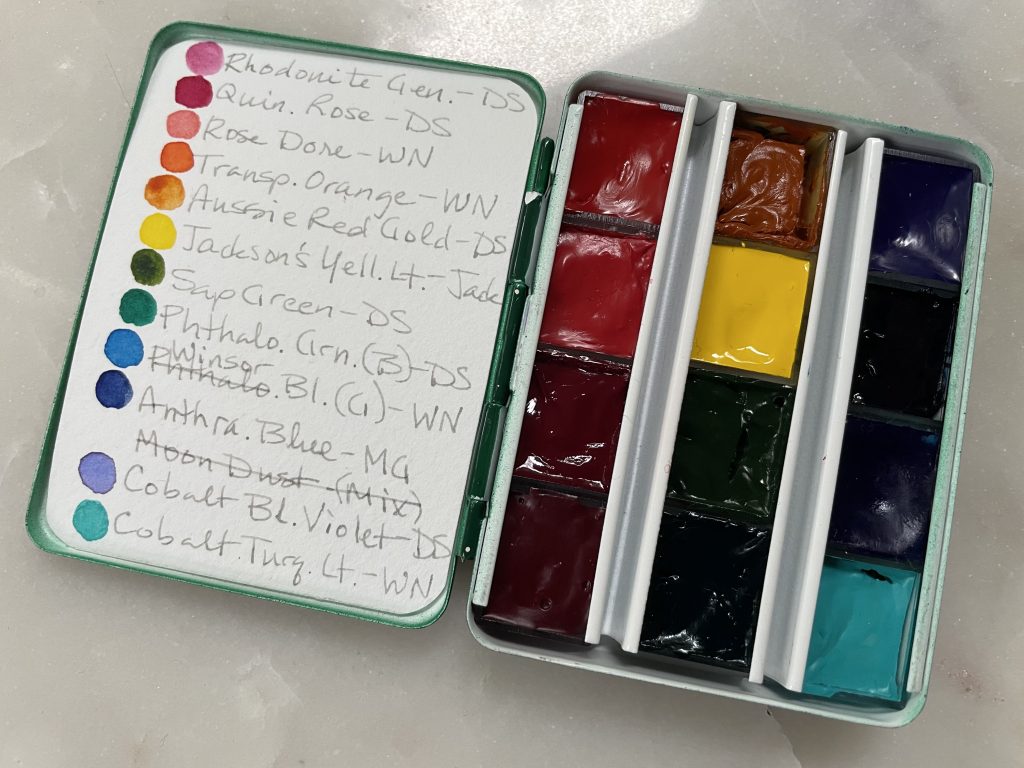 Catch the next post for the auxiliary travel palette.